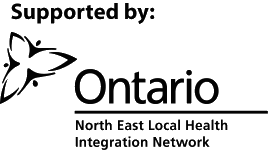 The Near North Palliative Care Network has been providing palliative and bereavement services in the Nipissing and Parry Sound Districts since 1987.  Our mission is  to enhance the comfort, dignity and quality of life of individuals with a terminal illness, and to offer bereavement support throughout the community. We are a visiting palliative care hospice, that is completely volunteer-driven, free of charge, working in collaboration with other agencies offering end-of-life care.
We have a total of 2 permanent staff positions (Executive Director and Volunteer Coordinator) plus 3 contracted staff and 2 annual Interns funded with a grant from NOHFC.  We typically range from 100-120 volunteers of which, on average, 60-80 are active in the field at any given time.   Our hard working volunteers serve the community as board members, palliative care providers, bereavement facilitators,  in long-term care facilities, hospitals, homes, participating in fundraising work, or office work. We support our clients in the community.  Proportionally 60% of our volunteers work within respite support, 35% bereavement support, and 5% other.  Of the volunteers who work within respite support 55% provide support in the client's home.
| | |
| --- | --- |
| Business Address: | 2025 Main Street West, North Bay, ON P1B 2X6 |
| Satellite Offices: | Sturgeon Falls, Mattawa, Sundridge |
| Number of Employees: | 2 (permanent) + 5 (contract) |
| Type of Business: | Not-for-Profit |
| Incorporation Number: | 1101104 |
| Brief Description of the Entity: | Visiting palliative care agency providing respite and bereavement services. |
| Revenue (2013): | $253,735 |
| Expenses (2013): | $266,631 |
| Deficiency (2013): | $(12,896) |
We currently receive $142,496.00 (2018) in guaranteed funding every year from the NE LHIN – all other revenue sources are variable. The positions we do have account for approximately $100,000 of our fixed LHIN funding, leaving only around $42,000 for all fixed costs (data processing, rent, internet, phone, technology, stationery, hydro, repairs, suppliers, services providers, training, etc).
Client base (demographic):

terminal patients in their last 6 months of life; caregivers of terminally ill patients; bereaved families. Average of 400-500 clients/year. 1% of clientele under the age of 19; 36% between 19 and 64 years old; 66% over 65 years old.

Geography:
West Nipissing and East Parry Sound. As far east as Deux- Rivieres, west to Markstay- Warren, North to the boundaries of Temagami, and South to Powassan.

East Parry Sound. All along the bay.

Almaguin. South to Novar; East to Sand Lake; North to South River; West to Hamic Harbour. It includes 16 towns and villages in the townships of Kearny, McMurrich, Ryerson, Armour, Strong, Magnetawan and Machar.

Number of new volunteers:
Trained per year: 50-80
Number of active volunteers:
60-80 (Working in field)
HPCO ACCREDITATION
Dear All,
After a process of scrutiny which lasted a few months and required many hours of hard work from our NNPCN team, which involved Tamela Price-Fry as the Accreditation Officer, the NNPCN Board and the Office team, I am happy to announce that NNPCN received the Accreditation status from the HPCO, the most prestigious entity of Hospice Palliative Care in the Province, and will proudly wear the HPCO Accreditation Seal from now on!
The HPCO Accreditation is the evidence that NNPCN meets the highest standards of quality as a Volunteer Visiting Hospice Palliative Care services providers. It is highly regarded by the NE LHIN, our funding and regulatory body, and arm of the MOHLTC (Ministry of Health and Long-Term Care) of Ontario.
As small and humble as we are, a small Visiting Hospice in Northeastern Ontario, NNPCN name is now among the best and biggest Palliative Care organizations in the Province, who also wear the seal of HPCO Accreditation, due to their high-quality services and operations.
This is a great achievement that was built by the personal high-quality work of each of you, our dedicated Volunteer, who has devoted to NNPCN along the years.
I cannot thank you enough for your loyalty and commitment to NNPCN, and especially for your priceless kindness and self-giving generosity to the cause of Visiting Hospice Palliative Care to our community!
I want to thank in special our Founder, Joan Burnett, and our Pioneer Volunteers, who laid down – with so many years of loyal solid work – the Foundation of this beautiful edifice that NNPCN is gradually transforming into!
I have said this a few times and will say it again, I feel humbled and honoured to stand in the shoulder of giants like you, Joan and Pioneer Volunteers!
Please receive my deepest gratitude and admiration, and my unwavering commitment to you, of keeping your Spirit alive at NNPCN, through challenges and accomplishments, and especially by following your steps of loyal and simple day-to-day hard work. After all, this is what builds up reality!
I hope each of you enjoy deeply in your heart this great accomplishment, as your baby and fruit of your life of work!
From today on, NNPCN wears the seal of Your high quality and commitment! This victory is yours, and this great accomplishment is fruit of your Volunteer Work. Congratulations, NNPCN Family! And thank you for being You!
Proudly Yours,
Monica Do Coutto Monni
Near North Palliative Care Network Executive Director
BELOW, OUR ACCREDITATION SEAL AND THE PLAQUE DISPLAYED AT NNPCN OFFICE.