CHECK OUT THE PHOTOS OF THE LAUNCH OF NNPCN ALMAGUIN!
SUNDAY MAY, 28TH, 2017, CASWELL RESORT.
CLICK ON THIS LINK TO GO TO PHOTO ALBUM: LAUNCH OF NNPCN ALMAGUIN
PAINT OUR TOE NAILS ORANGE!
PAINT OUR TOE NAILS ORANGE! In support of the launch of Near North Palliative Care Network in Almaguin Region, Sundridge Mayor Lyle Hall and NNPCN Board Director and Almaguin Lead Fraser Williamson will have their toe nails painted orange if a total of $3,000 is raised!
TO DONATE: there will be a donation Jar at L'egance Day Spa (Behind Foodland in Sundridge), or you can mail cheques to Near North Palliative Care Network PO Box 656 Sundridge P0A 1Z0.
THANK YOU, Mayor Lyle Hall and City Council of the Village of Sundridge, for the massive support to the cause of palliative care in our community! Near North Palliative Care Network, your Community Hospice in Nipissing and East Parry Sound Districts since 1987!

Webcast of 27th BON Annual Conference 2017 made possible with the support of
Near North Palliative Care Network (Nipissing/Parry Sound) and OTN Ontario Telemedicine Network.

5th ANNUAL FAMILY MUSIC NIGHT, MATTAWA.
WHEN: Saturday, May 13, 2016 – at 7 PM.
WHERE: Ecole Secondaire Elisabeth Bruyere Secondary School
359 Brydges St, Mattawa, ON P0H 1V0
(705) 744-5505
TICKETS at the door: $5.00
SIMPLY FABULOUS!

SILENT AUCTION – ENCAN SILENCIEUX
pour soutenir le Réseau des Soins Palliatifs du Moyen Nord Région du Nipissing Ouest
In support of the Near North Palliative Care Network West Nipissing Region
Items for sale displayed at:
Les articles à vendre seront exposés à
Sturgeon Falls National Bank
La Banque nationale de Sturgeon Falls
May/mai 8th to/au 19th, 2017
and/et
Sturgeon Falls Caisse Populaire
à la Caisse Populaire de Sturgeon Falls May/mai 22nd to/au June/juin 2nd, 2017
Auction will close June 2nd, 2017 at 3:00pm
The highest bidders will be contacted to provide payment and to pick up their items.
For more information or to donate, please contact.
Pour plus de renseignement ou pour faire un don, veuillez téléphoner
Rose Ransom 705-753-0784 Lana Richardson 705-580-2099
Marcel Rochon 705-753-3955
Thank you to all our donors and bidders for your generous contributions and ongoing support.
Merci à tous donateurs et les soumissionnaires pour leurs contributions généreuses et leur soutien.
La fermeture de l'encan: le 2 juin à 15h Les gagnants seront avisés par téléphone.

The Near North Palliative Care Network (NNPCN) is holding its sixth annual Music Night Fundraiser for 7 pm – Friday May 05, 2017 at St. Peter the Apostle Church, 299 Airport Rd, North Bay, ON P1B 8W7.
Among musical attractions and performers, you will enjoy Rob and Donna Lee Guillemette, Music City Ukulele Club, North Bay Baytones, PADDLE Program, Tom Arens Trio, Jason Brock and more!
Tickets are $10.00 for adults ~ $5.00 for children ~ 5 and under free. Tickets can be bought at the entrance on the day of the event, or in advance at our Office at St. Joseph's Motherhouse, 2020 Main Street West, North Bay ON, P1B 2X6, phone 705-497-9239, email [email protected]
Part of the evening includes a Silent Auction. Building on the inaugural success of this event, we continue to make each subsequent event better than ever. We value the support of the community and ask you to consider a donation to the silent auction table or with your presence at the event.
Near North Palliative Care Network (Nipissing-Parry Sound) is our Community Hospice in North Bay since 1987.
We provide compassionate support for the terminally ill person and their families. Our volunteers play a special role in helping individuals and their families through the dying process. We provide information, companionship, deep listening, and healing in the face of a terminal illness.
We also provide grief and bereavement support. Trained volunteers are available on a 24-hour basis. We are a recognized charity and our service is provided at no cost to the client or family.
Fundraisers such as the Music Night and our annual Butterfly Release at the North Bay waterfront on July 15th, 2017, are critical to sustaining service provision. This is especially true in the coming years as there is more and more demand for our services.
If you have any questions or wat to donate items to our Silent Auction, please do not hesitate to contact Music Night committee through our email: [email protected]
Thank you for considering our request. We look forward to hearing from you soon. With our gratitude,
Monica Do Coutto Monni, B.A. Pol.Sci. M. Psych.
Near North Palliative Care Network, Executive Director
2025 Main St W, North Bay, ON P1B 2X6
(705) 497-9239 – 1-800-287-9441 – Fax: (705) 497-1039
[email protected] – www.nnpcn.com

WE ARE HIRING!
2 full time positions 1-year contract each at $31.000/year for two recently graduate students.
Job Titles: Project Development Intern and Outreach Development Intern.
Eligibility: diploma or degree in one of the following, but not limited to Computer Sciences, Business Administration, Law, Psychology, Social Work, Public Health, Public Administration, Education. Valid drivers' licence. Bilingual an asset.
TO APPLY: Email Resume and Cover Letter to [email protected]DEADLINE April 1st.
Photo: Near North Palliative Care Network at Nipissing University Student Union Career Fair, March 14.

CHECK OUT THE LATEST NEWS HERE!
NNPCN ALERT. MARCH 01ST, 2017. ALL SESSIONS CANCELLED DUE TO WEATHER
Dear NNPCN Friend,
Due to the weather conditions, we are cancelling all activities for today, March 01st, at the Motherhouse.
SENIORS HELPING SENIORS SESSION 5. 1 pm Advanced Illness: Holding On and Letting Go. CANCELLED. RESCHEDULED FOR EARLY JUNE.
GRIEF GROUP SESSION 1 PM. CANCELLED. The group meets again next Wednesday, March 08, 1 PM.
DEATH CAFE. 7 PM. CANCELLED. New date to be announced soon.
We apologize for the inconvenience and will be in touch with you to announce the new dates. Many thanks for your understanding and patience and wishing you a peaceful day. Stay safe!

The NNPCN will be Celebrating our Volunteers on December 13th, 2016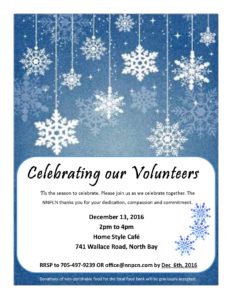 This is an  internal event for our dedicated and compassionate  Volunteers!

"SENIORS HELPING SENIORS" NNPCN PROJECT TO BE LAUNCHED IN AUGUST!
EMPOWERING OUR COMMUNITY THROUGH EDUCATION AND TRAINING
Near North Palliative Care Network, YOUR LOCAL VISITING HOSPICE FOR THE LAST 28 YEARS, will be launching their new Public Services Project "SENIORS HELPING SENIORS" this August 2016.
A series of free monthly training sessions for Seniors and Caregivers will be happening at St. Joseph's Motherhouse from September 2016 on. The idea behind the project "SENIORS HELPING SENIORS" is to empower the community with free education and training about End of Life.
68% of our Seniors choose to age and die at home. This means that we need a massive percentage of our population trained to give care to their loved ones at home while keeping a high quality of life as caregivers, and giving high-quality end-of-life to their loved ones.
All Seniors and Caregivers of our community are invited to participate and there is no charge. Dates and themes of the series to be announced soon! STAY TUNED!
NEAR NORTH PALLIATIVE CARE NETWORK: YOUR LOCAL VISITING HOSPICE FOR THE LAST 28 YEARS!
Please remember NNPCN between your Hydro and telephone bills, and SUPPORT YOUR LOCAL VISITING HOSPICE ALL YEAR THROUGH!
https://www.canadahelps.org/en/charities/near-north-palliative-care-network-nipissing-parry-sound/#donate_now
YOUR DONATION MAKES FREE PALLIATIVE CARE VISITING HOSPICE AND BEREAVEMENT SUPPORT SERVICES HAPPEN IN OUR COMMUNITY!
THANK YOU!

BARCLAY HOUSE FUND RAISES FOR NEAR NORTH PALLIATIVE CARE NETWORK tomorrow, Sunday, September 18, 2 PM, with a Sealed Bid. Author Andrew Bertram will be available from 2 to 3 PM in the lobby to discuss his experiences and to sign copies of his great book "Don't Be Blindsided by Retirement." Proceeds of the Sealed Bid go to Near North Palliative Care Network and bidders receive tax deductive receipts from NNPCN for their generous donation! Executive Director of NNPCN Monica Do Coutto Monni will be present to thank Andrew Bertram and NNPCN benefactors for their support to the great cause of Visiting Hospice in our community. NNPCN Visiting Hospice, serving our community for over 28 years. For more information about the event, contact Barclay House:
Address: 600 Chippewa St W, North Bay, ON P1B 9E7
Phone: (705) 707-0998

National Volunteer Week April 10-16, 2016!
A message for our Volunteers ~ Near North Palliative Care Volunteers

Speak Up! April 16, 2016 is Advance Care Planning Day.  To learn more about Advance Care Planning click here Speak Up!

April is Daffodil Month.  To learn more about the 2016 campaign go to Canadian Cancer Society Nipissing Chapter 

Nipissing Serenity House Hike for Hospice May 1, 2016 – Laurier Woods Conservation Area

National Hospice Palliative Care Week is May 1-7, 2016  "Hospice Palliative Care First"

Please find attached the poster for the annual Walk for Alzheimer's. You can share this poster with friends, get a team together or come join us on your own to walk. Whatever you choose, we would be happy to see you!
If you can't join us, you may sponsor me by going to www.walkforalzheimers.ca , select North Bay walk, click on Participant Information then to the left, click on sponsor a walker. In participant name, you would put in Linda Brown and proceed to make your donation.
We thank you for all your support and every dollar raised will stay in our community and support the local programs and services.
Help us remember those who can't!
Linda Brown
Family Counselor-Site Supervisor
Société Alzheimer Society Sudbury-Manitoulin North Bay & Districts

WHAT IS ALS (amyotrophic lateral sclerosis)?
ALS is a neurodegenerative disease where the nerve cells that control your muscles die. The 'living wires' which connect your brain to your muscles degenerate, leading to a loss of mobility, loss of speech and eventually impact the ability to breathe.
This is a terminal disease. ALS does not have a cure nor an effective treatment. In Canada, approx. 2500-3000 people are living with ALS; 1000 will succumb to the disease and 1000 will be newly diagnosed each year. The lifespan after diagnosis is on average two to five years.
To get involved or support ALS in the North Bay Area go to ALS North Bay Support Group

Priority Assistance to Transition Home (PATH) Program: The Canadian Red Cross, PATH program may assist you in accessing Community Support Services. Check the PDF's below for more information.
Priority Assistance to Transition Home (PATH) Program
The Canadian Red Cross, PATH program may assist you in accessing Community Support Services

—///—
Check out who are our awesome Volunteers, Donors and Staff.
We are there for you when you need it the most.
Our donors make it sure that we are there for you when you need us.
Please be there for us too:
WE HELP EACH OTHER!
For information about our volunteer opportunities, call us: (705) 497-9239 – 1-800-287-9441
You can also fill our online Volunteer Application Form.