Location: Waterfront, Memorial Drive, North Bay ON, P1A 1T6
Ticket Price: for free
ARE YOU READY…? STRESS FREE FUN UNDER THE SUN! This Summer, come join NNPCN and NORTH BAY HERITAGE GARDENERS and help create a pollinator's flowerbed at North Bay waterfront! Help feed our local butterflies and help create a pollinator's flowerbed at North Bay Waterfront! Help feed our local butterflies!
TO VOLUNTEER OR FOR MORE INFORMATION, CALL:
NNPCN. 705-497-9239 – HERITAGE GARDENERS. 705-472-4006
Location: Facebook Live Stream
Ticket Price: Accepting Donations of Any Amount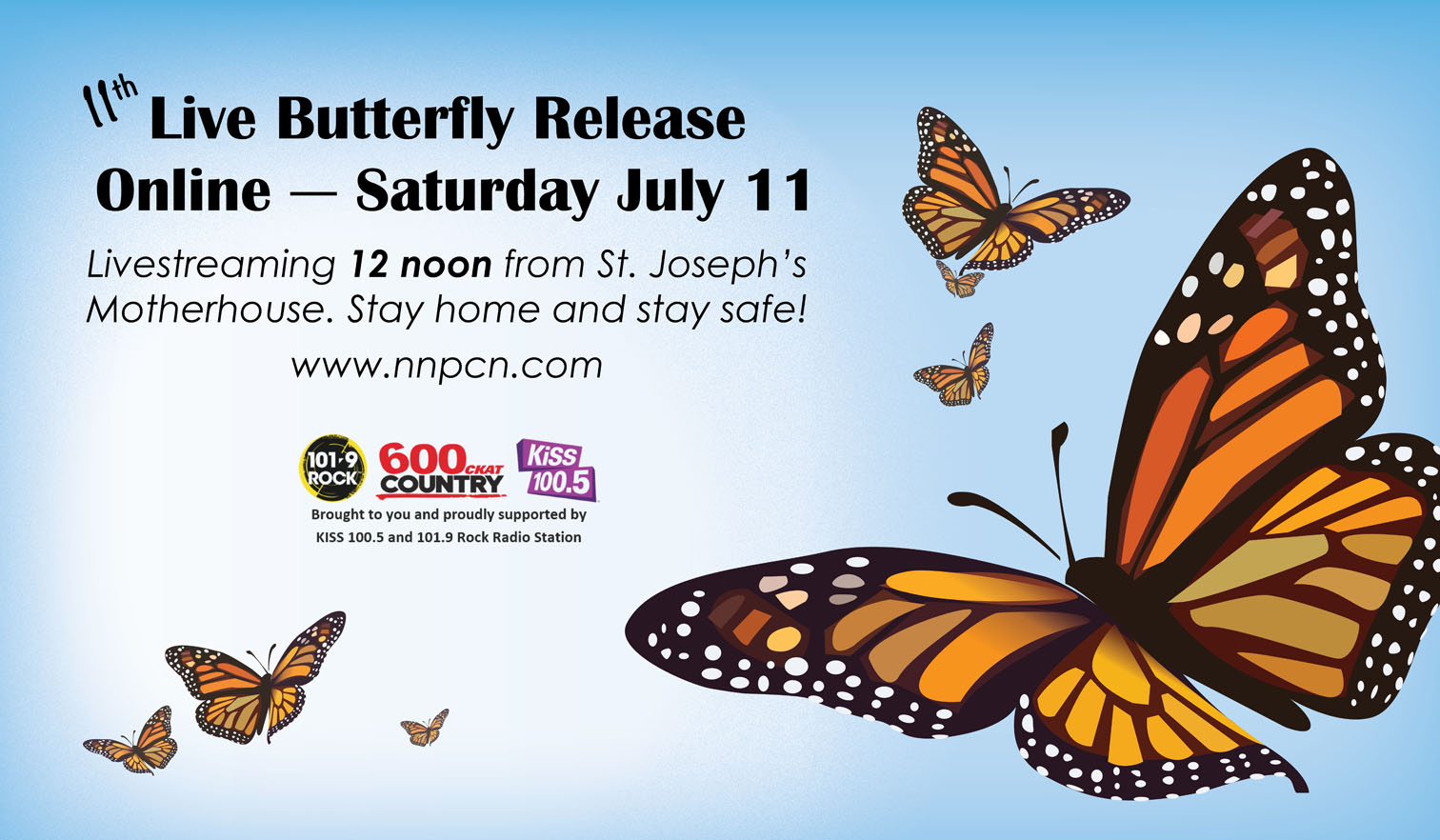 WE ARE BACK!!! 11th LIVE BUTTERFLY RELEASE 2020
Dear Supporter of Near North Palliative Care Network, we are in this together!
COVID-19 brought to us a new challenge and a new reality: we must stay apart when all we wanted to is to hold your hand and be present during the time you need the most.
At NNPCN, we adapted out Visiting Hospice to give you uninterrupted support with phone and teleconference visits during COVID-19. A friendly voice on the phone is not the same as being together, for sure – but it is still us, still the same friends, the second best after being in a face-to-face visit.
Likewise, for the Live Butterfly Release 2020, we cannot offer you the full experience of holding your butterfly in your hand and releasing it with hundreds of people in North Bay Waterfront, as we do every year, but we will never forget you!
We want to celebrate with you the beautiful life of your loved one under the sun, by releasing symbolically the butterflies for you and your loved ones, from the gardens of the Motherhouse, broadcast in real time to you by Live Stream on Facebook and then posted as video on our social media and website.
As you know,  the Live Butterfly Release is our main fundraiser. It helps Near North Palliative Care Network to give training to more volunteers in our area.
Any amount of donation you can send us this year is appreciated.
TO DONATE:
Phone: 705-497-9239
E-mail: [email protected]
Mail your cheque: NNPCN Office at St. Joseph's Motherhouse
2025 Main Street West. North Bay, ON, P1B2X6
NEW! WE ACCEPT CREDIT CARDS!
Donate Online: click on the butterfly below
Click on Canada Helps link below:
https://www.canadahelps.org/en/charities/near-north-palliative-care-network-nipissing-parry-sound/#donate_now
Click on PayPal link below:
paypal.com/ca/fundraiser/charity/3453383
WHAT IS THE LIVE BUTTERFLY RELEASE?
Every year, the Near North Palliative Care Network organizes an open-air event to celebrate the life and memory of your loved ones. Participants have the opportunity to sponsor a butterfly to be released in honour and memory of a loved one who has passed away.
COVID-19 PANDEMIC EDITION: OUR LIVE BUTTERFLY RELEASE WILL BE EXCLUSIVELY ONLINE LIVESTREAM. YOU WATCH FROM THE SAFETY OF YOUR HOME, WE RELEASE THE BUTTERFLIES ON YOUR BEHALF.
The event includes a musical moment with the North Bay Pipes and Drums, In Memory Minute of Silence, and an Ecumenical Prayer.
Please show your support to the awesome work of our volunteers! Show your solidarity to our clients and their families: your support makes all the difference!
THANK YOU FOR SUPPORTING THE CAUSE OF VOLUNTEER VISITING HOSPICE PALLIATIVE CARE IN OUR COMMUNITY!
NNPCN is the only Volunteer Visiting Hospice in Nipissing and East Parry Sound. We have served the community for 33 years, since 1987.
Our highly trained Volunteers are the heart of what we do. We provide Volunteer Visiting Hospice to Palliative Care Clients, respite to their Caregivers, and Grief and Bereavement support sessions to the survivors.
All NNPCN services are free of charge to the client.
During COVID-19, we provide phone and teleconference visits to our clients, extended to anyone feeling lonely in the community.
Brought to you and proudly supported by KISS 100.5 and 101.9 ROCK Radio Stations.
TO CHECK OUT PHOTOS FROM PAST BUTTERFLY RELEASE CELEBRATIONS, VISIT OUR WEBSITE:
https\://nnpcn.com/live-butterfly-release-a-celebration-of-life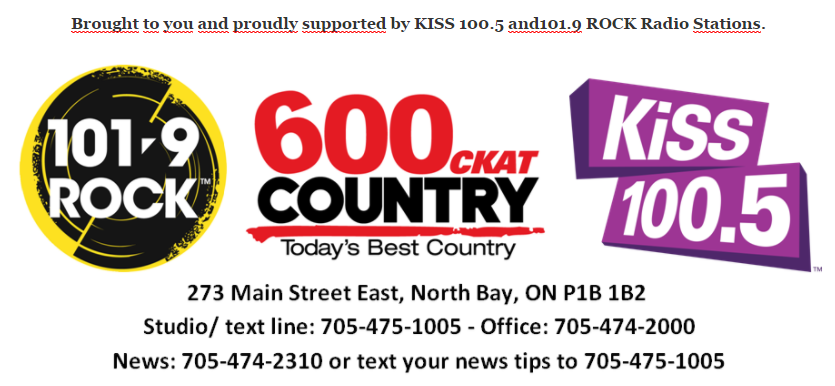 Pour nos amis Francophones!
NOUS SOMMES DE RETOUR!!! 11ème LIBRE PAPILLON EN DIRECT 2020
LIVESTREAM EN LIGNE
QUAND: SAMEDI 11 JUILLET 2020 – 12 H À 13 H
PLACE: LIVESTREAM EN LIGNE EXCLUSIVEMENT, retransmis depuis les jardins de la Maison mère de St. Joseph. RESTEZ À LA MAISON, RESTEZ EN SÉCURITÉ!
Cher bénévole du Réseau de soins palliatifs du Moyen Nord, nous sommes ensemble!
COVID-19 nous a apporté un nouveau défi et une nouvelle réalité: nous devons rester séparés quand tout ce que nous voulions, c'est vous tenir la main et être présent pendant le temps dont vous avez le plus besoin.
Au NNPCN, nous avons adapté nos services pour vous offrir un soutien ininterrompu avec des visites téléphoniques et par téléconférence pendant COVID-19. Une voix amicale au téléphone n'est pas la même chose qu'être ensemble, c'est sûr – mais c'est toujours nous, toujours les mêmes amis, le deuxième meilleur après avoir été en face à face.
De même, pour la version de la Journée de Mise en Liberté les Papillons En Ligne 2020, nous ne pouvons pas vous offrir l'expérience complète de tenir votre papillon dans votre main et de le libérer avec des centaines de personnes au bord de l'eau à North Bay, comme nous le faisons chaque année – mais nous ne vous oublierons jamais!
Nous voulons célébrer avec vous la belle vie de votre bien-aimé sous le soleil, en libérant symboliquement les papillons pour vous et vos proches, dès les jardins de la Maison mère de Saint Joseph, diffusés en temps réel par Live Stream sur Facebook puis postés sous forme de vidéo sur nos réseaux sociaux et notre site Web.
Comme vous le savez, la Mise en Liberté les Papillons est notre principale collecte de fonds. Il aide le Réseau de soins palliatifs du Moyen Nord à donner une formation à plus de bénévoles dans notre région.
Tout montant de don que vous pouvez nous envoyer cette année est apprécié.
FAITES VOTRE DON EN  LIGNE: 
Cliquez sur CanadaHelps lien ci-dessous: 
http://nnpcn.com/live-butterfly-release-a-celebration-of-life/
https://www.canadahelps.org/en/charities/near-north-palliative-care-network-nipissing-parry-sound/
Cliquez sur PayPal ci-dessous:
paypal.com/ca/fundraiser/charity/3453383
Vous pouvez bien sûr, faire votre don par téléphone au (705) 497-9239
 Par courriel : [email protected]
Nouveau! Nous acceptons les paiements par carte de crédit!
Le RÉSEAU DE SOINS PALLIATIFS du Moyen Nord vous invite à participer à leur ÉVÉNEMENT ANNUEL, le SAMEDI, 11 juillet, 2020, 12h00m – 13h00m, EN LIGNE.
Comme à chaque année, lors d'un événement en plein air, les papillons seront relâchés en mémoire d'êtres chers.
La Journée de mise en liberté des papillons permet au Réseau de soins palliatifs du Moyen-Nord d'offrir les services de nos bénévoles à domicile et de fournir des services de soutien aux familles en deuil.
Votre soutien en fait toute la différence !
UN GRAND MERCI À NOS COMMANDITAIRES!
POUR SAVOIR QUI FAIT LA DIFFÉRENCE DANS NOS COMMUNAUTÉS AVEC LEUR GÉNÉROSITÉ,
CLIQUEZ SUR CE LIEN:
http://nnpcn.com/live-butterfly-release-a-celebration-of-life/sponsors/
<script id="ch_event_embed" type='text/javascript' src="https://www.canadahelps.org/secure/js/ch_events_embed.min.js" charset='utf-8′ data-language="en" data-page-id="1430″ data-root-url="https://www.canadahelps.org"></script>