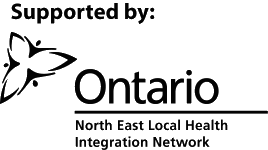 The Near North Palliative Care Network has been providing palliative and bereavement services in the Nipissing and Parry Sound Districts since 1987.  Our mission is  to enhance the comfort, dignity and quality of life of individuals with a terminal illness, and to offer bereavement support throughout the community. We are a visiting palliative care hospice, that is completely volunteer-driven, free of charge, working in collaboration with other agencies offering end-of-life care.
We have a total of 2 staff positions (Executive Director, and Development Director/Volunteer Coordinator).  We typically range from 80-100 volunteers of which, on average, 40-50 are active in the field at any given time.   Our hard working volunteers serve the community as board members, palliative care providers, bereavement facilitators,  in long-term care facilities, hospitals, homes, participating in fundraising work, or office work. We support our clients in the community.  Proportionally 60% of our volunteers work within respite support, 20% bereavement support, and 20% other.  Of the volunteers who work within respite support 31% provide support in the client's home.
| | |
| --- | --- |
| Business Address: | 2025 Main Street West, North Bay, ON P1B 2X6 |
| Satellite Offices: | Sturgeon Falls, Mattawa, Almaquin |
| Number of Employees: | 2 |
| Type of Business: | Not-for-Profit |
| Incorporation Number: | 1101104 |
| Brief Description of the Entity: | Visiting palliative care agency providing respite and bereavement services. |
| Revenue (2013): | $253,735 * |
| Expenses (2013): | $266,631 |
| Deficiency (2013): | $(12,896) |
* Financial figures includes $63,555 in LHIN funding flowed through to two other palliative care organizations: Almaguin Palliative Care, and West Parry Sound Palliative Care. We receive $101,800 in guaranteed funding every year from the LHIN – all other revenue sources are variable. The positions we do have account for approximately $75,000-$80,000 of our fixed LHIN funding, leaving only around $20,000-$25,000 for all fixed costs (data processing, rent, internet, phone, etc).
| | |
| --- | --- |
| Client base (demographic): | terminal patients in their last 6 months of life; bereaved families. Average of 120 clients/year. 1% of clientele under the age of 19; 36% between 19 and 64 years old; 66% over 65 years old. |
| Geography: | All Nipissing region and part of Parry Sound area. 70% clients from North Bay area; 30% account for all other areas. |
| Number of new volunteers: | Trained per year: 20-30 |
| Number of active volunteers: | 40-50 (Working in field) |